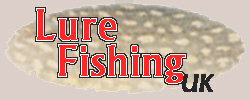 Lure Information
There's More to Lure Fishing than Lures
Before
you read about the lures remember these words of wisdom from one who has learned the painful way.
If you're not catching any fish then the most likely reason is that your lure is not close enough to the fish you seek, so make some effort to get near some of your target fish. You can move or you can change how deep (think 3D, depth is as important as geography) your lure is running. Speed of retrieve is the other great variable, you cannot retrieve too fast or too slowly - vary it. The really important question is where your lure is and how fast it is moving, not what it is.
The only lure a fish can take is the one you are using, so use it as well as you can. Concentrate, feel what it is telling you about the topography of the swim - the depth changes, weed, flow rate etc. Always be in control and in a position to strike. Most of all be constantly aware of exactly where your lure is: How deep? How far away? What it is doing? You may need to repeat its position and behaviour precisely to catch another fish.
Good anglers catch most fish and it's generally best to assume that we've quite a bit to learn! An open mind is a great advantage,never let preconceived ideas get in the way of trying something new, the fish do not read lure catalogues or fishing magazines. Learn the right lessons from successes and failures and become a better angler.
Lure Performance Guide List
These are my own observations on using the lures. The body length I've measured without the diving lip, the weights are those quoted by manufacturers/retailers or my own approximations and vary both in accuracy and metric/imperial units. Diving depths are my own estimations, but line diameter must be borne in mind, for bigger lures I usually cast with 100lb Power Pro and troll with 50lb PowerPro or TUF XP, for smaller lures I use 10lb test Power Pro or 20lb test Power Pro or TUF XP 15lb. If your line is thicker then they won't dive so deeply.