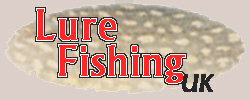 Lure Fishing UK links - Websites for predator anglers.
If a website has kept my attention for more than a minute or two -
it must have particular relevance for a predator angler
- and I am likely to return to it, then I include it here. They sometimes change URL, cease trading or their domain gets used by a completely different sort of business so if any of the links do not work please take the trouble to let me know, and I will update them accordingly.
I'll add any relevant lure or predator fishing link if you contact me.